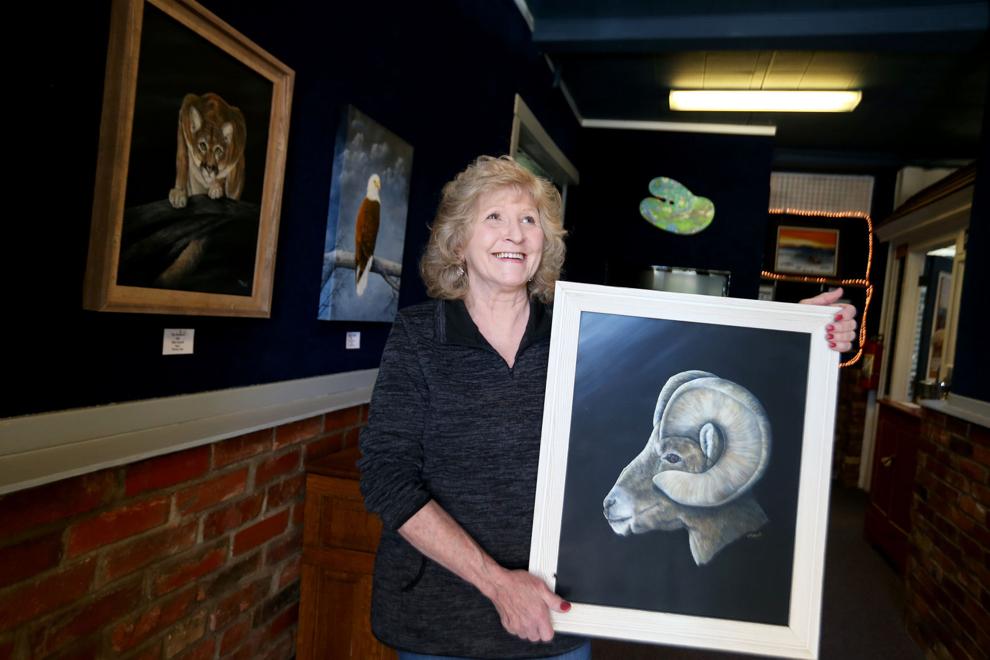 Bibi Atwell spent nearly all of 2020 in her home. As a precaution during the COVID-19 pandemic, she got all her groceries delivered and only left the house a handful of times for one reason: to get more art supplies.
Oil painting was her one constant companion throughout the lonely spring shutdown and the months of uncertainty that followed.
"I've painted 10 to 12 hours a day for the last year and love it," she said. "Art is one of the things that can keep you out of depression and keep you entertained. The time just flew. … It just really kept me out of any kind of trauma or drama."
Atwell was particularly happy for the escape because she wasn't able to see her three sons and grandson much in 2020. They gathered a couple times in masks and from a distance, but for the most part, they stayed away entirely, especially because one son works at a grocery store.
Three pieces that Atwell created during her period of isolation are now on display at the Cheyenne Artists Guild as part of the gallery's "Still Lifes to Wildlifes" show – one of a mountain lion, one of a bighorn sheep and another of an eagle.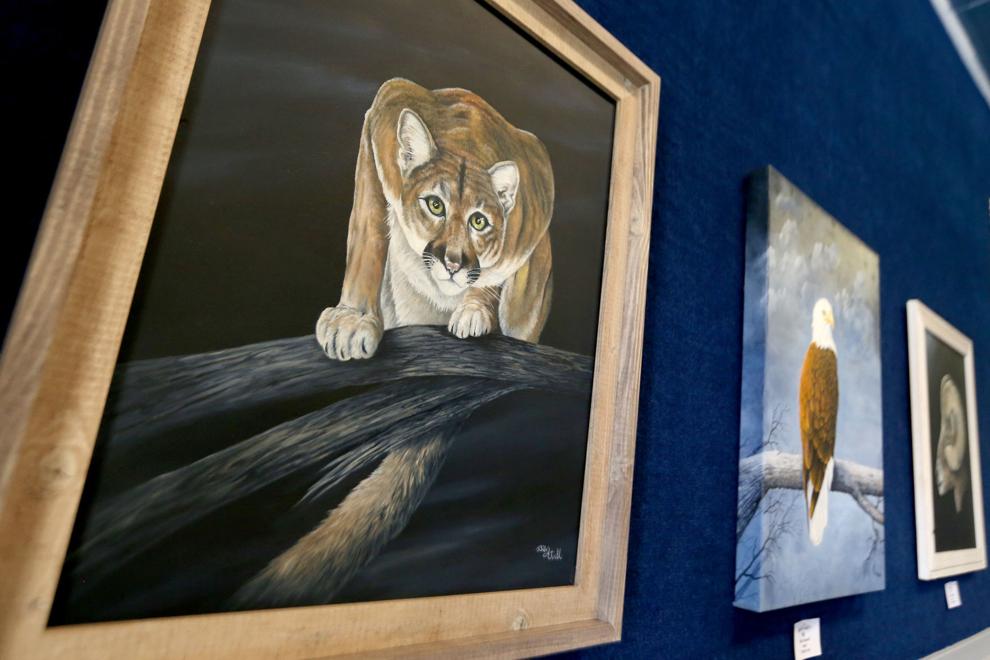 Atwell, who retired shortly before the pandemic and has been a member of the Guild since the 1980s, spends a great deal of her time in the mountains around Arlington and Medicine Bow-Routt National Forest. She loves to photograph the wildlife she sees in the warmer months and then return to the photos in the fall and winter to base her oil paintings off of them.
"Their eyes – they just draw you in," she said, adding that she loves the versatility that comes from depicting different species. "For instance, an eagle is a whole lot different than painting a bear because of their feathers. And I like going back and forth and doing the different techniques and trying to improve on the piece that I did before."
Laramie-based painter Karen Buck (who noted her address is in Laramie, but really she lives in a subdivision in the Snowy Range that was hit hard by the 2020 Mullen Fire) used to display work in Cheyenne when she was a resident of the capital city. However, she just rejoined the Guild this month – right in time to get two pieces in the May show.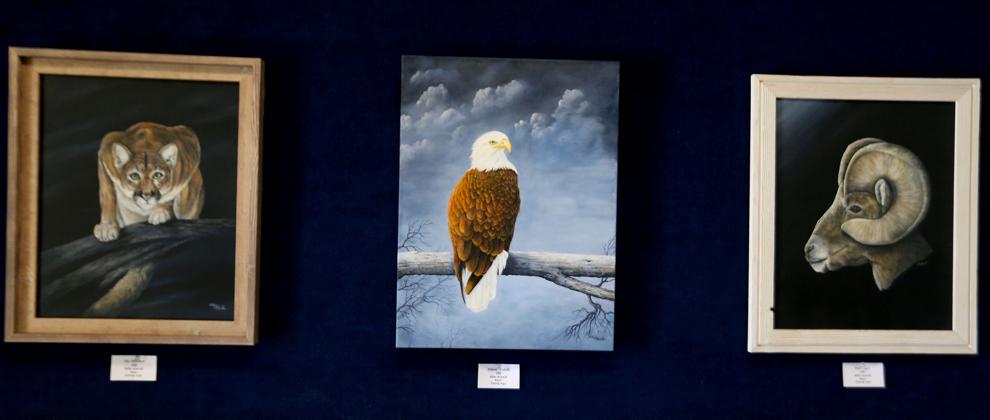 Buck has been creating ever since she was a kid. She took her first formal art class at the age of 13, and continued to take classes throughout high school and college. She majored in art education and then taught for a few years before getting married and moving out West, where she worked in a different industry.
When she retired in 2017, she was ecstatic to have time for painting again.
"I do it because I just absolutely love it," she said. "My motto is kind of like, 'Do what you love to do,' something like that."
Buck used to do mostly oil paintings, but she's now learned everything from pastels to drawing. She also currently has a commissioned pet portrait business.
Like Atwell, Buck is a big animal lover who enjoys depicting Wyoming's majestic wildlife.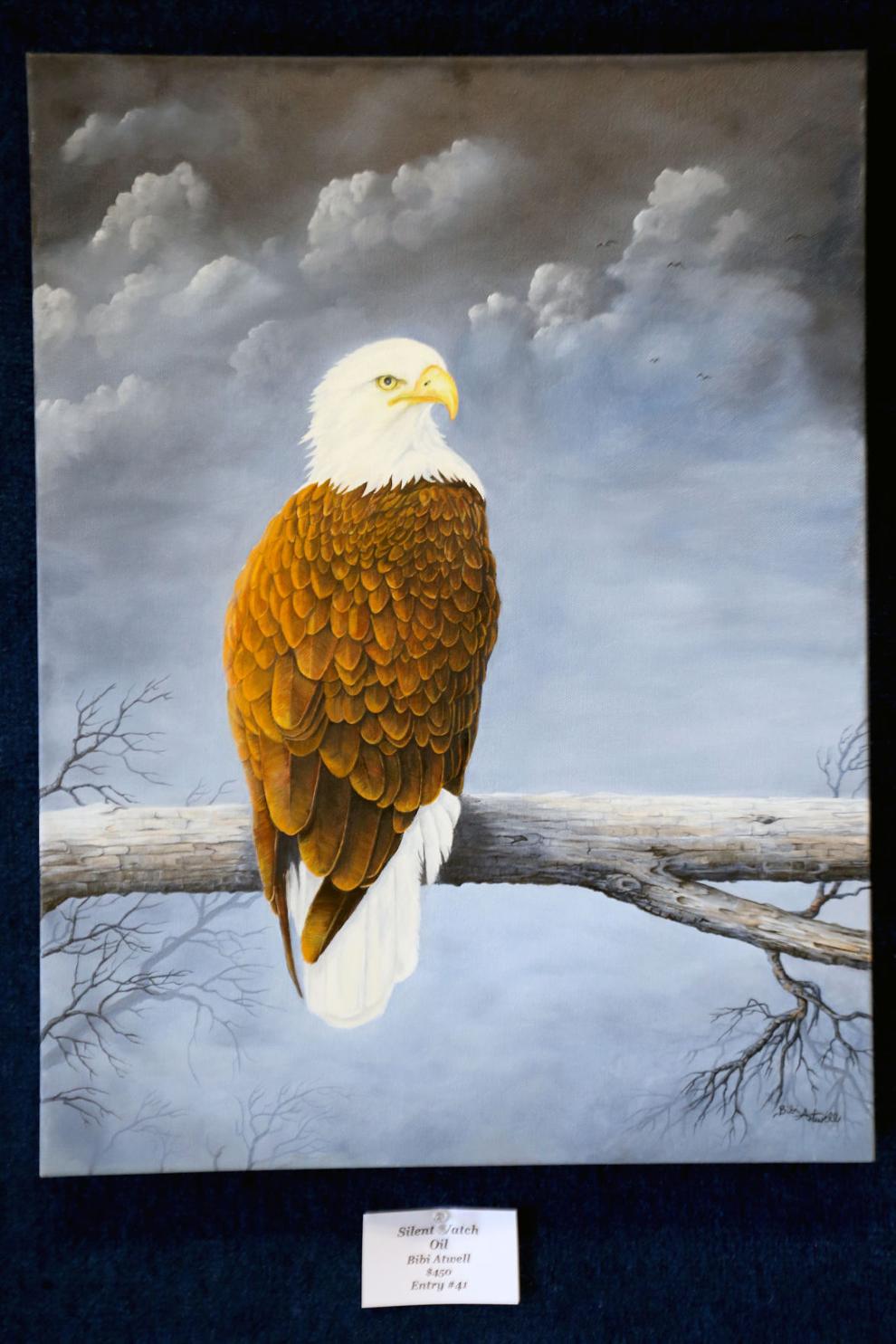 "I photograph wildlife as much as I can and as often as I see it," she said. "My husband and I travel in the wintertime to warmer climates, and I've had the opportunity to photograph wonderful birds. And so my current three pieces at the Artists Guild are from my photographs of some birds from this year."
Whenever they travel, she said, the couple opts for country destinations, rather than cities, so they can enjoy natural settings and the wildlife that live there. She considers her depictions of the animals she comes across as a "looser version of realism."
Atwell, on the other hand, loves to find an atypical way to capture animals. She strives for different perspectives and unusual angles in her work, which has gotten easier with time.
She took her first painting course at Casper College in the '70s, and when she moved to Cheyenne, she took a class at Laramie County Community College. Atwell always wanted to grow and learn more about the hobby that quickly became a full-blown passion, but her career with Magic City Enterprises took priority and left little time for painting.
That's why her isolation offered the extended time for painting that she'd always yearned for.
"I think that I've improved – as you do when you're doing it every day," Atwell said. "It has definitely made me a better artist."